Ngā Hau e Whā | The Four Winds
Ngā Hau E Whā is the gathering of the four trade winds translated into interlocking-rings made with Steve's hand, head, and heart.  
Wind is said to be the carrier of new things, of a prophecy or message. 
For Te Rangitu Netana, as a member of Ngāti Wai, this pattern is very significant, connecting the people from their past to their future, from their ancestors, to who they are now. 
The pattern is called Kiri Kiore, it derives from the beginning of time, a symbol of Tawhirimatea, God of the Wind, and so much more. 
The interlocking parts of the ring are Nga Matau a Maui, the jawbone of Maui. The knowledge of Maui that came from his grandmother's jawbone, and the fishhook of Maui, made from his grandmothers' jawbone.  
The constellation that Maui was taught to navigate by his grandmother, led him to fishing up (finding) the North Island of Aotearoa, te Ika o Maui.
A commission with pounamu (New Zealand nephrite jade) flowed right around the ring carved by Alex Sands encased in 18ct yellow gold.  The Pounamu symbolizes our connection to our gods and ancestors of old.  The outer parts of the ring being the bringing together of two families, making one.  Right through nature you always have patterns of 3, the mother, father and child.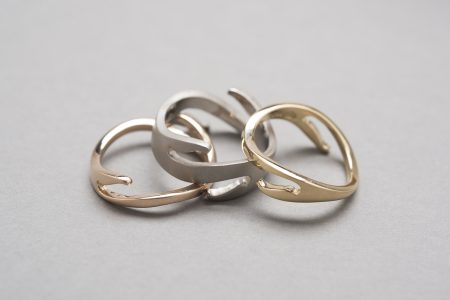 Understanding and learning more about matauranga Maori (Maori knowledge), is a way that non-Maori people can enlighten themselves to indigenous ways of thinking, to help two nations that live alongside one another to truly understand and complement each other. 
The true language of the land, New Zealand, was taught to Maori by our land, our animals and birds, our forest and fauna, our oceans and seabed, and our gods and ancestors.  
We received this language that we speak and the knowledge that we have from our land, from nature, and we talk of our story as the true language of New Zealand.
STEVE HAYWOOD | MASTER JEWELLER – Ngāti Pākehā ki Wairarapa
As a fifth generation New Zealander Steve strongly identifies with Maori Culture and particularly Maori Art.  Along with the philosophies behind manaakitanga and kaitiakitanga. He was often asked to incorporate Maori design into his work.  He met Te Rangitu at a CollaboratioNZ event in 2007.  Before the next Collab in 2009, they made Ngā Hau e Whā together.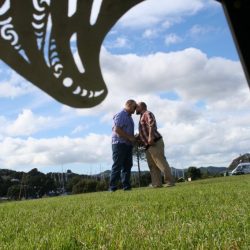 Steve had been making inter-locking rings for years as wedding rings and liked the idea of 3 fitting together.  It carries many great metaphors of a relationship that holds two people together, or a family relationship.  So when he saw the Kiri Kiore design that Te Rangitu drew, he could immediately see it at 3 rings.
This is an extremely meaningful collaboration for Steve because it has opened up a whole new opportunity of listening to people's stories as to 'why' they want jewellery made.  So, it has transformed his work because he is now thinking more about 'why' he is making the work and this enriches the result.
This ring set, as you can see, has many ways that it can be customised, just for you.
SaveSaveSaveSaveSaveSaveSaveSaveSaveSaveSaveSaveSaveSaveSaveSaveSaveSave
SaveSave
SaveSaveSaveSave
SaveSave
SaveSave
SaveSave
SaveSave
SaveSave
SaveSave
SaveSave